Can an AI-design maker make a presentation look good at the last minute before sending it to a client or meeting? That's the question a lot of people are asking right now.
The familiar pattern of using a typical presentation template is a thing of the past; it can no longer satisfy our need to stand out or provide suitable design options for all slides. When you use the usual presentation builder, you know that you can't change anything at the last minute; it's a popular approach where the author of the slides simultaneously thinks about the idea of the slide, writes the text, and immediately designs it, resulting in each slide taking a lot of time.
Our team presents a different process. The author spends most of his time creating a draft of the presentation; he formulates the idea, distributes the text on the slides, but does not spend time on the design. The AI assistant does this task and can actually design an entire presentation at the last minute.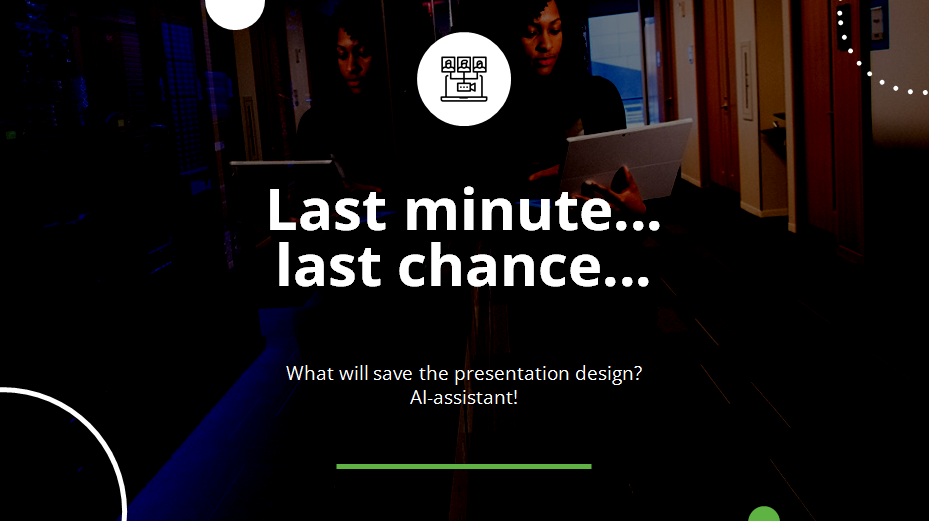 You can drive in a cab or wait for coffee at a cafe while the AI design maker creates multiple designs for all your slides. This is a truly revolutionary solution that will save you from routine and unnecessary time waste.
How to use the design-maker for free?
Use Wonderslide. Upload a draft of your presentation and see the result.
"I used to send presentations to clients with almost no design. I was sorry to waste time for decorating. Now the design is done for me! I still control the meaning, only now my presentations make a brighter impression. They get remembered!" — said Brian, senior sales manager at a logistics company.
However, if you need a wonderful presentation, the AI assistant may not be enough. You may want to take a few extra minutes to make your own edits to ensure that the presentation looks the way you want it to.